*PLEASE NOTE*  Due to high demand and delayed shipments of set top boxes, we will temporarily be unable to install new television services.  We are continuing to install internet and phone services as normal, and will be following up with new subscribers that would like to have our TV service once inventory is back in stock.
Callabyte Technology, LLC is part of the trusted electricity provider, Callaway Electric Cooperative.
Owned by the Cooperative's service company, Callabyte Technology, LLC is a for profit, tax paying limited liability company that offers advanced communications services to un- and underserved areas of the surrounding communities.
Callaway Electric Cooperative is constructing a fiber-to-the-home broadband network to improve the electrical distribution system's operation and efficiency. Along the way, Callabyte is offering advanced communications to reach a need for improved access to rural residents.
Internet packages have recently been simplified to offer more speed and more value.
Callaway Electric members also receive a $5/month discount on each package.
Premier Residential Internet
Up to 300 Mbps up and down
$70/month outside CEC service area 
$65/month CEC Member pricing
Elite Residential Internet
Up to 1 Gig up and down (1,000 Mbps!)
$80/month outside CEC service area
$75/month CEC Member pricing
Callabyte Technology, LLC also offers VoIP (Voice over Internet Protocol) telephone service and television packages through fiber technology.
Standard phone service is $30/month and includes unlimited local and long distance to the entire United States and Canada, three way calling, caller ID, call forwarding, call waiting, voicemail, and 100 free minutes to each of the following countries:  Puerto Rico, Bahamas, Dominican Republic, U.S. Virgin Islands and Guam.
Television packages and prices are available to all areas except for Gasconade and Warren Counties. Click for a full channel listing and details.
Several convenient options are available to sign up with Callabyte. Choose one of the following options that works best for you:
>Contact a Callabyte representative at 573-826-2371 anytime Monday-Friday from 7:30 a.m.-4:30 p.m.
>Complete out our online sign-up form.
>Contact our office to set up a custom visit 573-826-2371 or info@callabyte.com.
>Stop by our office in Fulton at 1313 Cooperative Dr to visit with our Customer Service Team in person. Office hours are M-F, 7:30 am-4:30 pm.
To make a commitment for service you will need to sign a subscriber commitment agreement and select a minimum service term and applicable installation charge. All installations within the Callaway Electric Cooperative service area will also require an easement authorization from the property owner(s).
Installation includes the fiber line being trenched and buried to your home and necessary equipment to bring you fiber service.
It also includes installation of one Internet service, one phone install, and up to 2 set top boxes for television. Fees apply for additional installs and/or services.
Keep in mind, installation is free with a 2 year internet service commitment.
While contractors are working on our system, minimum service terms and an applicable installation charge will apply. (FREE with a 2-year commitment to internet.)
If you do not sign up, fiber will not be built to your home. Should you later become interested, the installation charges may be higher, as we will have to send out a crew specifically for your service and it will be based on footage.
By signing a service agreement, you are committing to having Callabyte Technology's service sometime in the future.
We will go ahead and build the service to your home, provided you use the service within 12 months.
Billing for your Callabyte Technology services will begin after final installation is complete and you start receiving service.
Services are billed in advance of usage, i.e. June service will be billed May 1.
If you are a member of Callaway Electric Cooperative, your Callabyte bill will be included with your electric bill and can be paid together in one payment. 
All Callabyte subscribers also have access to our convenient Smarthub app.
Yes! Callabyte Technology subscribers will receive free 24/7 technical support on all services.
Contact Tech Support at 573-826-2371, option 3. They will help troubleshoot issues and if a service call is needed, they will also help to coordinate it.
Callabyte Technology has contracted Sellenriek Construction Inc. to build the network based on, among other things, their expertise and safety record.
Crews will work with Callaway Electric's lines, poles and underground electrical locations (where available) to install fiber optics.
In places where we are installing fiber outside of the Callaway Electric service area, the existing city or state utility easements are used. Once the main line construction is complete, drop contractors will be running fiber to those who have signed up for the service. At that time, they will also be installing a box on the side of the location where the fiber service will be entering the building. 
Yes and no.
You will be contacted about placement of the box on the outside of your home along with where the fiber line will run across the property. Once this is agreed upon, we can complete the outside work without someone being home. A member of our customer service team will then contact you to schedule the final installation and activation. Our installers will need access inside your location to complete your installation, we ask that someone over the age of 18 is home at that time. 
A small fiber panel will be placed on the outside of your home.
The unit is a small clamshell style box that measures 7 inches wide, 10 inches tall and 3 inches deep.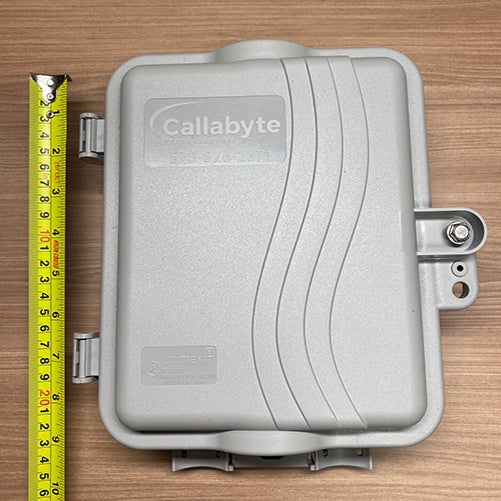 A Callabyte technician will install one of our cutting edge Gigacenter Optical Network Terminals (ONT) in your home.
This unit provides a gigabit wired connection as well as Wi-Fi (802.11a/b/g/n/ac), acting as a router and an access point. Our Gigacenter measures 7.9 inches wide, 10.6 inches tall and 1.8 inches deep. The unit can be placed in a stand (included) or mounted on a wall.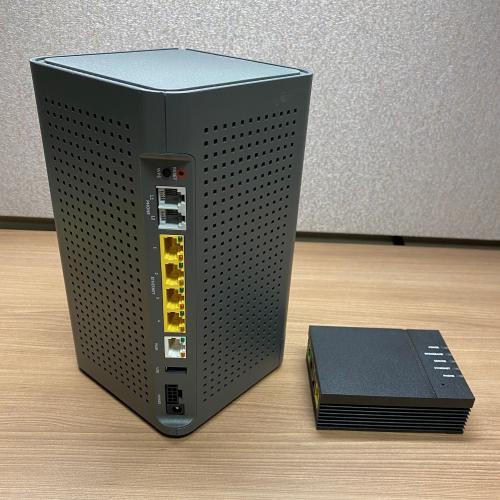 You do not need to purchase a new router to use Callabyte Internet service.
The Callabyte Gigacenter provides wired and wireless access to the Internet for just about any device in your home (laptops, phones, tablets, smart TVs, gaming consoles, etc…). If you prefer to use your own router, that is an option as well. 
Callabyte Internet is an unlimited service. There are no data caps. 
Callabyte does not provide email services.
You can get a free email account from many different providers (Gmail, Yahoo! Mail, Outlook.com, etc.).
In most cases, yes!
We have successfully ported numbers from several areas, carriers and prefixes. If you have a concern about a specific number, please contact our offices via phone at 573-826-2371 or email. 
Your new phone number will be provided upon installation of your internet service, if phone service is purchased at the time of the initial Internet service activation.
Otherwise is will be provided when the phone service is activated.
You do not need a special phone to use our phone service.
Any analog phone designed to work with a normal phone service should work.
Download this guide for more information on Callabyte Telephone Service. Also keep in mind that our tech support is available 24/7 at 573-826-2371, option 3. Please don't hesitate to reach out if you are having an issue.
Phone - Residential
This is your monthly flat rate charge for basic telephone service, which includes unlimited local and long distance calling.
Local Tax
This fee is the city and county sales tax; rates vary by city/county.
FCC Regulatory Fee
By federal law, each year the FCC must collect through regulatory fees an amount equal to its congressional appropriation from providers and consumers of services for which the Commission has regulatory oversight, such as telephone service.  The rate charged varies year to year, and the amounts collected are remitted to the FCC.
Missouri PSC Assessment Intrastate
This fee is authorized by the Missouri Public Service Commission and applicable to the intrastate portion of telephone services.  Amounts collected are remitted to the Missouri Public Service Commission.
E911 Service Fee
This fee is authorized by state law and county voters to pay for the Enhanced 911 emergency dispatch systems used to locate callers reporting an emergency.  The fee is applied in jurisdictions where county voters approved the E911 fee.  In some jurisdictions, E911 emergency dispatch systems are funded as a component of sales tax. 
Ambulance Tax
This fee is authorized by state law and county voters pay for the Enhanced 911 emergency dispatch system used to locate callers reporting an emergency.  The fee is applied in jurisdictions where county voters approved the E911 fee.  In some jurisidictions, E911 emergency dispatch systems are funded as a component of sales tax.
Fed USF (Universal Service Fund)
This federally authorized fee is to provide funding to rural school districts, hospitals and libraries.
Missouri State Tax
This fee is the state sales tax.
Relay Missouri Assessment
This fee is authorized by state law and the Public Service Commission to fund the special telephone system that allows the hearing impaired to make and receive phone calls and the Adaptive Telephone Equipment Program that provides equipment for the hearing impaired to access the phone network.
City Franchise Tax
Authorized by ordinance in same municipalities, a franchise fee may be mandated as an additional charge on ordinary and typical utilities, such as telephone service.  Historically, these fees have been used by the municipality to help offset costs specific to managing public rights-of-way.  Not all cities impose this tax, and the applicable rate can vary from city to city.