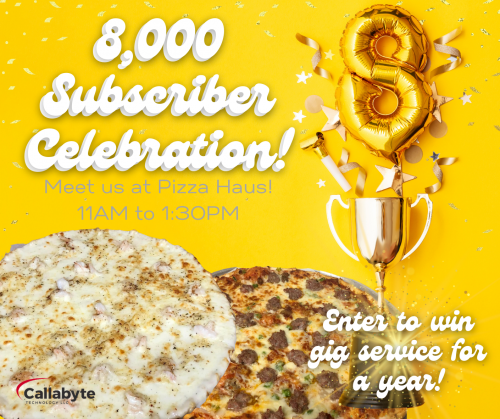 We have exciting news! We have almost reached 8,000 active Callabyte Subscribers and we want to celebrate with you!
We appreciate our members and subscribers in surrounding communities who have welcomed us and supported our efforts to set the bar high for fast, reliable internet and service that can't be beat. As we reach the milestone of 8,000 subscribers, we are working on some fun events to celebrate with the subscribers and communities we serve.
The celebration starts this Friday, April 22 in Wardsville where we will be setting up at Pizza Haus to visit with subscribers, hand out delicious pizza, sign up new subscribers and enter subscribers to WIN a YEAR OF GIG SERVICE! All active and new subscribers that visit the event are eligible to enter. We hope to see you there.
Stay tuned for more details on upcoming celebrations. We have several fun locations in the works. Thank you for your business and support. We couldn't do this without awesome subscribers like YOU!