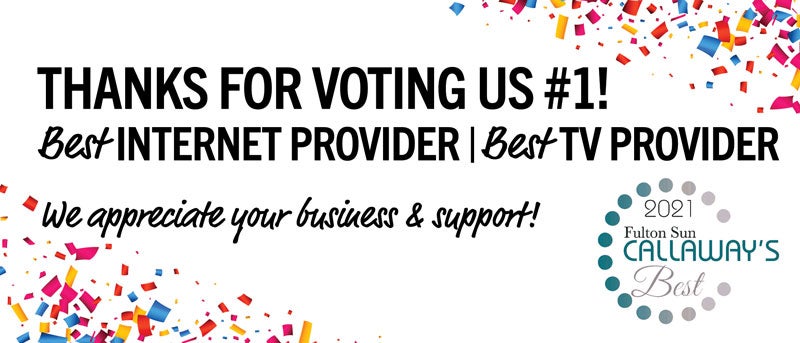 On behalf of all of our team at Callabyte Technology we want to thank everyone who voted in the recent Fulton Sun poll of Callaway's Best Contest. We were honored to be selected as #1 Internet Provider and #1 TV Provider in Callaway County. This joins our recent Jefferson City Tribune Readers' Choice Award for Best Television Service Provider which was announced in April 2021.
We definitely feel and appreciate all of the love and support from the communities we serve. We can't thank you enough for the votes and your willingness to share your Callabyte experience with others. We know we would not be as successful without the support of our subscribers. Another milestone was reached in August 2021 as we exceeded 7,000 active subscribers. As we continue to grow and expand, please know that we are dedicated to raising the bar on service in this industry. We realize internet is essential and if at any time you have an issue — we can't stress enough — do not hesitate to reach out. We are here for you. That is what makes Callabyte different. Again, thank you for your vote and continued support!

View all of the 2021 Fulton Sun Callaway's Best recipients at Contests Fulton Sun.